Notes
When using click-to-dial a popup will be shown once the call is answered. 3CX is not sending a ringing event in this scenario.

The 3CX call control button will not work with the 3CX softphone, 3CX does not support it.


Configuration in partner portal
To connect the 3CX telephony platform to Bubble it is necessary to add the internal phonenumbers/extensions to the user(s). In the partner portal, go to the customer you want to connect. Click on the tab User and click on the green icon next to the user to add the internal phonenumber/extension.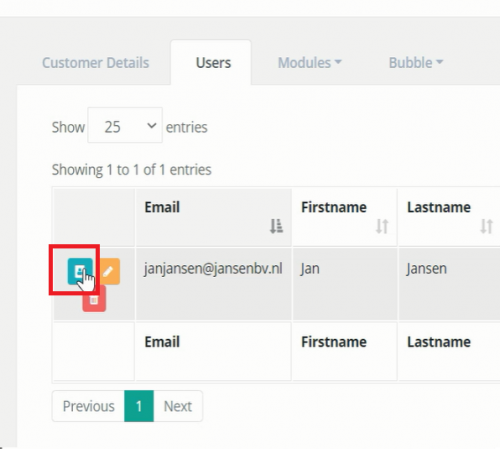 On the server
To make the integration (from V16) you need root access. Then download the correct 3CX .deb file here (see attachment) and place it on the server where the 3CX PBX is installed. At the moment we only support Linux servers. You can also go to the installation files via Bubble > 3CX > click on 'You can download the latest software here' at the bottom.

Login via SSH, navigate to the folder where the deb-file is located, then run the following command to install the service.
sudo dpkg -i 3CX-Bubble-Service.1.1.0.debian.10-x64.deb*  

* type in the right filename. 
Go to the Red Cactus partner portal>
 reseller
>
 Customers
> tab
 bubble
>
 3CX.
 Copy the host, username and API Key values and copy them to /var/lib/3CX-Bubble-Service/config.ini

[bubble]

host=3cx.bubble.redcactus.nl
port=8091
username=
api_key=
secure=true
[3cx]

config_file=/var/lib/3cxpbx/Bin/3CXPhoneSystem.ini
As a final step, start the 3CX-Bubble service:
sudo systemctl restart 3cx-bubble-service


Configuration in Bubble Software
In the Bubble software, go to Phone Connectors and activate the 3CX phone connector by double clicking on it. 3CX is now connected to Bubble.